B

last Band® Live Song-Lis

t
The Award-Winning Blast Band®
Fun, Memorable & Successful Events
Every Time!
We'd Be Happy To Learn Your Favorite Tune!
Dance Hits & All-Time Favorites
UPTOWN FUNK-MARK RONSON
FINESSE- BRUNO MARS
THAT'S WHAT I LIKE- BRUNO MARS
TENNESEE WHISKEY- CHRIS STAPLETON
IGNITION (REMIX)- R. KELLY
SHAKE IT OFF- TAYLOR SWIFT
HAPPY-PHARRELL WILLIAMS
CAKE BY THE OCEAN-DNCE
BANG BANG-JESSIE J
GET LUCKY-DAFT PUNK
BLURRED LINES- ROBIN THICKE
LADY MARMALADE- CHRISTINA AGUILERA LIL' KIM MYA PINK
SUGAR-MAROON 5
MOVES LIKE JAGGER-MAROON 5
HEY YA-OUTKAST
UMBRELLA-RHIANNA
LOCKED OUT OF HEAVEN-BRUNO MARS
TREASURE-BRUNO MARS
CRAZY IN LOVE/SINGLE LADIES-BEYONCE
DA' BUTT-E.U.
JUST DANCE-LADY GAGA
CUPID SHUFFLE-DJ CASPER
HIP HOP MEDLEY
I WANNA DANCE WITH SOMEBODY- WHITNEY HOUSTON
WORD UP-CAMEO
LONELY BOY-THE BLACK KEYS
PUSH IT-SALT N PEPA
GOOD LIFE-ONE REPUBLIC
PLEASE DONT STOP THE MUSIC-RHIANNA
RAPPERS DELIGHT-SUGAR HILL GANG
GOOD TIMES-CHIC
PARTY IN THE USA-MILEY CYRUS
BABY LOVE-SUPREMES
BEAT IT-MICHAEL JACKSON
LET IT WHIP- DAZZ BAND
WE ARE FAMILY-SISTER SLEDGE
BOOGIE OOGIE OOGIE-A TASTE OF HONEY
CLOSER I GET TO YOU-ROBERTA FLACK/DONNY HATHAWAY
DANCING IN THE STREET-MARTHA AND THE SHANDELLS
THIS IS HOW WE DO IT- MONTELL JORDAN
DJ GOT US FALLIN IN LOVE-USHER
GET THIS PARTY STARTED-PINK
AT LAST-ETTA JAMES
BABY LOVE-SUPREMES
C'MON 'N RIDE IT (BLAST TRAIN)-QUAD CITY DJS
DYNAMITE-TAIO CRUZ
FUNKY TOWN- LIPPS INC.
HEARTBREAKER-PAT BENETAR
HIT ME WITH YOU BEST SHOT-PAT BENATAR
I GOTTA FEELING-BLACK EYED PEAS
I LOVE ROCK N ROLL-JOAN JETT
I WILL SURVIVE-GLORIA GAINER
LET'S GIVE THEM SOMETHING TO TALK ABOUT-BONNIE RAITT
MOMENT 4 LIFE- NICKI MINAJ
OMG-USHER
PARTY ROCK-LMFAO
PROUD MARY-TINA TURNER
RESPECT/NATURAL WOMAN-ARETHA FRANKLIN
SWEETEST TABOO-SADE
TO BE REAL-CHERYL LYNN
WHAT'S MY NAME-RHIANNA
CHICKEN FRIED-ZAC BROWN
WAGON WHEEL-DARIUS RUCKER
80's & 90's
BAD TO THE BONE-GEORGE THOROGOOD
BLISTER IN THE SUN-VIOLENT FEMMES
BORN TO BOOGIE- HANK WILLIAMS JR.
CELEBRATION-KOOL AND THE GANG
CHAMPAGNE SUPERNOVA-OASIS
COME ON PART III-STEVIE RAY VAUGHN
CROSSFIRE-STEVIE RAY VAUGHN
CUTS LIKE AKNIFE-BRIAN ADAMS
DEAD OR ALIVE-BON JOVI
DON'T FORGET ABOUT ME-SIMPLE MINDS
FAITH-GEORGE MICHAEL
FLY AWAY-LENNY KRAVITS
FOOL FOR YOUR LOVIN-WHITESNAKE
FREEWILL-RUSH
FRIENDS IN LOW PLACES-GARTH BROOKS
HARD TO HANDLE-BLACK CROWES
HERE I GO AGAIN-WHITESNAKE
HEY SOUL SISTER-TRAIN
HIGHER GROUND- STEVIE WONDER/RED HOT CHILI PEPPERS
HOUSE IS ROCKIN-STEVIE RAY VAUGHN
HURTS SO GOOD-JOHN COUGAR MELLENCAMP
INTERSTATE LOVE SONG-STONE TEMPLE PILOTS
IN YOUR EYES-PETER GABRIEL
JUST LIKE HEAVEN-CURE
KEEP YOUR HANDS TO YOURSELF-GEORGIA SATELLITES
LA WOMAN-BILLY IDOL
LENNY-STEVIE RAY VAUGHN
LIMELIGHT-RUSH
LITTLE RED CORVETTE-PRINCE
LIVING ON A PRAYER-BON JOVI
LOOK AT LITTLE SISTER-STEVIE RAY VAUGHN
MELT WITH YOU-SOFT CELL
MESSAGE IN A BOTTLE-POLICE
MOVE IT ON OVER-GEORGE THOROGOOD
PARTY LIKE ITS 1999- PRINCE
PLUSH-STONE TEMPLE PILOTS
PRIDE (IN THE NAME OF LOVE)-U2
PRIDE AND JOY-STEVIE RAY VAUGHN
REBEL YELL-BILLY IDOL
ROLL WITH THE CHANGES-REO SPEEDWAGON
RUN-PINK FLOYD
SAILING-CHRISTOPHER CROSS
SAY WHAT-STEVIE RAY VAUGHN
SHE'S A ROLLER-APRIL WINE
SMOOTH-SANTANA
SOUL MAN-BLUES BROTHERS
SUMMER OF 69-BRYAN ADAMS
SUPER FREAK-RICK JAMES
SURFING WITH THE ALIEN-JOE SATRIANI
TAINTED LOVE-SOFT CELL
THUNDERSTRUCK-ACDC
TIGHTROPE-STEVIE RAY VAUGHN
WE'RE IN THIS LOVE TOGETHER-AL JARREAU
WHAT I LIKE ABOUT YOU-ROMANTICS
WHERE THE STREETS HAVE NO NAME-U2
70's
AFTER MIDNIGHT-ERIC CLAPTON
AIN'T NO SUNSHINE-BILL WITHERS
AIN'T TALKIN BOUT LOVE-VAN HALEN
ALRIGHT NOW-FREE
ANY WAY YOU WANT IT-JOURNEY
ANYTIME-JOURNEY
BABY LOVE-MOTHERS FINEST
BABY I LOVE YOUR WAY-PETER FRAMPTON
BACK IN BLACK-ACDC
BEGINNINGS-CHICAGO
BEST OF MY LOVE-EAGLES
BIG SHOT-BILLY JOEL
BLACK MAGIC WOMAN-SANTANA
BRICKHOUSE-COMMODORES
BROWN EYED GIRL-VAN MORRISON
CAN'T FIND MY WAY HOME-BLIND FAITH
CAN'T GET ENOUGH-BAD COMPANY
CAN'T YOU SEE-MARSHALL TUCKER BAND
CHANGES AND LATITUDES-JIMMY BUFFETT
CHEAP SUNGLASSES-ZZ TOP
COME SAIL AWAY-STYX
COMFORTABLY NUMB-PINK FLOYD
COULD YOU BE LOVED-BOB MARLEY
CRAZY LOVE-POCO
CROSSROADS-ERIC CLAPTON
DANCE SISTER DANCE-SANTANA
DON'T STOP BELIEVIN'-JOURNEY
DON'T YOU WORRY ABOUT A THING-STEVIE WONDER
DRIFT AWAY-DOBIE GRAY
DYER MAKER-LED ZEPPLIN
EASY-COMMODORES
EUROPA-SANTANA
EVIL WAYS-SANTANA
FAITHFULLY-JOURNEY
FEEL LIKE MAKING LOVE-BAD COMPANY
FLORA DE LUNA-SANTANA
FLY LIKE AN EAGLE-STEVE MILLER
FREERIDE-EDGAR WINTER
FREEWAY JAM-JEFF BECK
FUNK 49-JAMES GANG
GET DOWN TONIGHT-KC & THE SUNSHINE BAND
GET UP STAND UP-BOB MARLEY
GIMME SOME LOVIN-SPENCER DAVIS GROUP
GIVE A LITTLE BIT-SUPERTRAMP
GOOD LOVIN GONE BAD-BAD COMPANY
GOOD TIMES BAD TIMES-LED ZEPPELIN
GREEN EYED LADY-SUGARLOAF
HAVE MERCY/JESUS JUST LEFT CHICAGO-ZZ TOP
HIGHER GROUND-STEVIE WONDER
HIGHWAY STAR-DEEP PURPLE
HORSE WITH NO NAME-AMERICA
HOT BLOODED-FOREIGNER
HOTEL CALIFORNIA-EAGLES
HOW LONG-ACE
I SHOT THE SHERIFF-ERIC CLAPTON
I WISH-STEVIE WONDER
IMMIGRANT SONG-LED ZEPPELIN
IN THE SUMMERTIME- MUNGO JERRY
ISN'T SHE LOVELY-STEVIE WONDER
JAIL BREAK-THIN LIZZY
JAMMIN-BOB MARLEY
JET AIRLINER-STEVE MILLER
JOY TO THE WORLD-THREE DOG NIGHT
JUNGLE BOOGIE-EARTH WIND & FIRE
JUST GOT PAID-ZZ TOP
JUST THE WAY YOU ARE-BILLY JOEL
KNOCKING ON HEAVEN'S DOOR-BOB DYLAN
LA GRANGE-ZZ TOP
LANDSLIDE-STEVIE NICKS
LET'S GET IT ON-MARVIN GAYE
LET'S GROOVE-EARTH WIND & FIRE
LET'S STAY TOGETHER-AL GREEN
LIGHTS-JOURNEY
LISTEN TO THE MUSIC-DOOBIE BROTHERS
LIVIN IN THE USA-STEVE MILLER
LONG TRAIN RUNNING-DOOBIE BROTHERS
LOVIN', TOUCHIN', SQUEEZIN'-JOURNEY
LOW RIDER-WAR
MARGARITAVILLE-JIMMY BUFFETT
MERCY ME-MARVIN GAYE
MIDNIGHT RIDER-ALLMAN BROTHERS
MOONDANCE-VAN MORRISON
MOVIN ON-BAD COMPANY
MUSTANG SALLY-WISON PICKETT
MY CHERIE AMOUR-STEVIE WONDER
NO MATTER WHAT YOU DO-BAD FINGER
NO WOMAN NO CRY-BOB MARLEY
OH WHAT A NIGHT-FRANKIE VALLI AND THE FOUR SEASONS
OLD TIME ROCK AND ROLL-BOB SEGER
ONE WAY OUT-ALLMAN BROTHERS
OPEN ARMS-JOURNEY
OYE COMO VA-SANTANA
PANAMA-VAN HALEN
PATIENTLY-JOURNEY
PIANO MAN-BILLY JOEL
PIRATE LOOKS AT 40-JIMMY BUFFETT
PLAY THAT FUNKY MUSIC-WILD CHERRY
READY FOR LOVE-BAD COMPANY
RIGHT PLACE WRONG TIME-DR. JOHN
ROCK AND ROLL –LED ZEPPLIN
ROCK AND ROLL PART II-GARY GLITTER
ROCK MOUNTAIN WAY-JOE WALSH
ROCK N ROLL ALL NIGHT-KISS
ROCK N ROLL HOOCHIE COO-RICK DERRINGER
ROCKET MAN-ELTON JOHN
SATURDAY NIGHTS ALRIGHT FOR FIGHTING-ELTON JOHN
SCARLET BEGONIAS-GRATEFUL DEAD
SEND HER MY LOVE-JOURNEY
SEPTEMBER- EARTH WIND & FIRE
SEXUAL HEALING-MARVIN GAYE
SHINING STAR-EARTH WIND & FIRE
SHOOK ME ALL NIGHT LONG-AC/DC
SIGNED, SEALED, DELIVERED-STEVIE WONDER
SILVER BLUE AND GOLD-BAD COMPANY
SIMPLE MAN- LYNYRD SKYNYRD
SNOW BLIND-STYX
SOME KIND OF WONDERFUL-GRAND FUNK RAILROAD
SON OF A SAILOR-JIMMY BUFFETT
SPILL THE WINE-ERIC BURDON & WAR
STATESBORO BLUES-ALLMAN BROTHERS
STAY AWHILE-JOURNEY
STAYIN ALIVE-BEE GEES
STUCK IN THE MIDDLE WITH YOU-STEELERS WHEELS
SUMMER BREEZE-SEALS AND CROFT
SUPERSTITION-STEVIE WONDER
SURFING WITH THE ALIEN-JOE SATRIANI
SWEET CAROLINE-NEIL DIAMOND
SWEET EMOTION-AEROSMITH
SWEET HOME ALABAMA- LYNYRD SKYNYRD
SWEET HOME CHICAGO-ROBERT JOHNSON
SWEET MELISSA-ALLMAN BROTHERS
SWINGTOWN-STEVE MILLER
TAKIN CARE OF BUSINESS-BACHMAN TURNER OVERDRIVE
TEQUILA SUNRISE-EAGLES
THANK YOU-LED ZEPPLIN
THAT'S THE WAY I LIKE IT-KC & THE SUNSHINE BAND
THE JOKER-STEVE MILLER
THE PERFECT C&W SONG-DAVID ALLEN COE
THE RAIN SONG-LED ZEPPLIN
TOO ROLLING STONE-ROBIN TROWER
TUBE SNAKE BOOGIE-ZZ TOP
TUSH-ZZ TOP
US AND THEM-PINK FLOYD
USE ME UP-BILL WITHERS
WAITING IN VAIN-BOB MARLEY
WHAT'S GOING ON-MARVIN GAYE
WHAT'S YOUR NAME-LYNYRD SKYNYRD
WHO'S CRYING NOW-JOURNEY
WISH YOU WERE HERE-PINK FLOYD
WISHING YOU WERE HERE-CHICAGO
WONDERFUL TONIGHT-ERIC CLAPTON
YOU ARE SO BEAUTIFUL-JOE COCKER
YOU ARE THE SUNSHINE OF MY LIFE-STEVIE WONDER
YOU REALLY GOT ME-VAN HALEN
50's & 60's
AIN'T TOO PROUD TO BEG-TEMPTATIONS
BACK IN USSR-BEATLES
BIRTHDAY-BEATLES
BOARDWALK-TEMPTATIONS
BORN TO BE WILD-STEPPENWOLF
CAN'T FIND MY WAY BACK HOME-BLIND FAITH
CAN'T HELP FALLIN IN LOVE WITH YOU-ELVIS PRESLEY
DOCK OF THE BAY-OTIS REDDING
DON'T KNOW MUCH ABOUT HISTORY-SAM COOKE
FIRE-JIMI HENDRIX
GEORGIA-RAY CHARLES
GOT TO GET YOU INTO MY LIFE-BEATLES
GRAPEVINE-MARVIN GAYE
GREAT BALLS OF FIRE-JERRY LEE LEWIS
GREEN ONIONS-BOOKER T & THE MG'S
HAND JIVE-JOHNNY OTIS
HELLO I LOVE YOU-DOORS
HERE COMES THE SUN-BEATLES
HERE, THERE, & EVERYWHERE-BEATLES
HEY JUDE-BEATLES
HONKY TONK WOMAN-ROLLING STONES
(I CANT GET NO) SATISFACTION-ROLLING STONES
I FEEL GOOD-JAMES BROWN
I'LL BE AROUND-THE SPINNERS
JAILHOUSE ROCK-ELVIS PRESLEY
JOHNNY B. GOODE-CHUCK BERRY
JUMPIN JACK FLASH-ROLLING STONES
KANSAS CITY-WILBERT HARRISON
LA WOMAN-DOORS
LABAMBA-RITCHIE VALENS
LET IT BE-BEATLES
LIGHT MY FIRE-DOORS
LOVE HER MADLY-DOORS
MAGIC CARPET RIDE-STEPPENWOLF
MONY MONY-TOMMY JAMES AND THE SHONDELLS
MY GIRL-TEMPTATIONS
PAPA'S GOT A BRAND NEW BAG-JAMES BROWN
REDHOUSE-JIMI HENDRIX
ROADHOUSE BLUES-DOORS
SAW HER STANDING THERE-BEATLES
SEX MACHINE-JAMES BROWN
SHOUT-ISLEY BROTHERS
SPIRIT IN THE SKY-NORMAN GREENBAUM
STAND BY ME-BEN E. KING
SUPERBAD-JAMES BROWN
TEDDY BEAR-ELVIS PRESLEY
TEQUILA-THE CHAMPS
THE LONG AND WINDING ROAD-BEATLES
TWIST AND SHOUT-BEATLES
UNCHAINED MELODY-RIGHTEOUS BROTHERS
UNDER MY THUMB-ROLLING STONES
WAITING ON A FRIEND-ROLLING STONES
WHEN A MAN LOVES A WOMAN-PERCY SLEDGE
WILD THING-TROGGS
SMOKE ON THE WATER-DEEP PURPLE
WITH A LITTLE HELP FROM MY FRIENDS-BEATLES
WOOLY BOOLY-SAM THE SHAM & THE PHARAOHS
YESTERDAY-BEATLES
JAZZ/DINNER MUSIC
500 MILES HIGH- RETURN TO FOREVER
ALL BLUES-MILES DAVIS
ALL OF ME-JAZZ STANDARD
AUTUMN LEAVES-CANNONBALL ADDERLEY
BESSIE'S BLUES-JOHN COLTRANE
BILLIES BOUNCE-CHARLIE PARKER
DON'T GET AROUND MUCH ANYMORE-DUKE ELLINGTON
FLOR DE LUNA-SANTANA
FLY ME TO THE MOON-FRANK SINATRA
FOOTPRINTS-WAYNE SHORTER
GEORGIA-RAY CHARLES
GIRL FROM IPANEMA-NAT KING COLE
HERE'S THAT RAINY DAY-BILL EVANS
LA SAMBA-JAZZ STANDARD
MACK THE KNIFE-LOUIS ARMSTRONG
SATIN DOLL-DUKE ELLINGTON
SONG FOR MY FATHER-HORACE SILVER
STRAIGHT NO CHASER-MILES DAVIS
THE WAY YOU LOOK TONIGHT-FRANK SINATRA
TUNE UP-MILES DAVIS
WAVE-JAZZ STANDARD
WELL YOU NEEDN'T-THELONIOUS MONK
WHAT A WONDERFUL WORLD-LOUIS ARMSTRONG
HEBREW SONGS
EREV SHEL SHOSHANIM
HAVA NAGILA
MISERLOU
SIMON TOV
SUNRISE SUNSET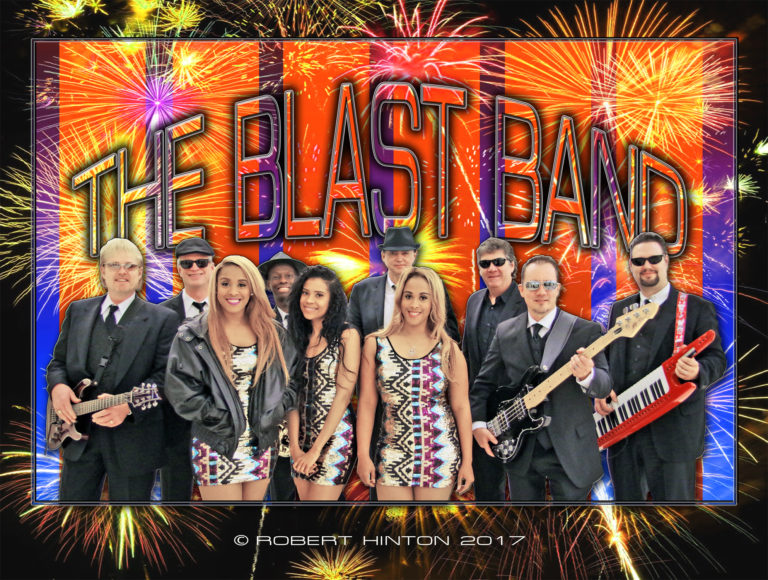 Here Are Some Live Celebrations! 
The Award-Winning Blast Band®
Fun, Memorable & Successful Events
Every Time!