O

ur Customers Love Us And You Will To

o
We Have Been Of Service To Millions Of Customers And Their Guests! We Look Forward To Adding Your Name To This Ground-Breaking List!
Coca-Cola
ADTRAV Corporation
Comcast
Disney World
Home Depot
Victoria's Secret
Wounded Warrior Project
City Of Pensacola
The Park On Clairmont
Yamaha Motor Corporation
Convergint Corp.
Global Connections
Verizon
Colonial Insurance Company
Holiday Inn Select
Red Hat Society
Parkview High School
Shaw Industries
Juvian Inc.
Stone Mountain Inn
Jennifer Dilbeck
Verisign
Jerry Finch
Lynda Hamilton Sewell
Harrys Farmers Market
Roswell United Methodist Church
Icon Office Solutions
Lisa Alexander
Signal Point Systems
Terry GorsuchDerrick Hale
Margaritaville Lake Lanier
Gwinnett Tech
Johnsie Roberts
Atlanta Church Of Religious Science
Carrie Patterson
Life University
Creekside Church
Marshall Erdman And Associates
Jason Mc Ewen
Mark Homrich
Jason Hoffman
Art Institute Of Atlanta
Alpharetta Country Club
Oak Creek Estates
Realty Construction Group
Joan Rummel
Enzl Esposito
Liz Burdick
Angela Beard
Kazoo's Grill And Bar
Randall Communities
Dana Dicamillis
Kelley Owens
Boston Consulting Group
Kathie Copeland
Wayne Marcinko
Traci Crockett
Audry Hammond
Grandville Condo Association
Pam Bennett
Melony Walker
Underground Atlanta
Steve Brock
Dexter Jones
Becky Gebhard
Walter Johnson
Jackie Ashman
Global Computer Supplies
Deloris Sobel
The Thomas Group
Carol Campbell
Sue Rochland
Tara Lytton
Lisa Mauck
The Event Company
Katie Heightchew
Multi Users Solutions
Mistil Pritchett
Sunvalley Beach
April Wood
Heather White
Greg Talsky
The Orchards Group
James Kinnard
Kathie Copeland
Leah Chapman
Brenau University
Martin Poole
Krista Wells
Diane Pettus
Libby Thomas
Bonnie Tatum
Cobb County Bar Association
Andy Scarano
Tom Brayton
Kraft Foods
Travel Inc.
Daniel Sperry
Barbara Cruse
Wade Mckinney
Bridget Laconico
Modern Image Modeling Agency
Sears/NTB
Jason Fox and Associates
Quality Merchandising Group Inc.
North Park Builders
Huntersville Ford
Powerhouse Promotions
Kent Nelsen
Art Assad
MD Logic Inc.
Tracey Federer
Dolly Prince
Saint Josephs Hospital
Lan-Mar Marina
Gaye Vandereerden
ComSouth
Georgia State University
Success Mortgage Partners
Chastain American Legion
The Park On Clairemont
Ray Hornsby
Tim Street
Lake Lanier Sailing Club
United Stationers
Ashley Davenport
Dental TLC
Lindsey Rhino
Debbie Bankston
Betsy Holden
Ken Livingston
Michelle Via
Caliber Promotions
Kennesaw State College
Annette Avakian
Cigna Health Care
Patsy Odum
Unique Events And Parties
Elaine Bartlett
BellSouth
11 Alive WXIA
Doubletree Hotel
ComForce
Noble Investment Group
Reuse Technology
Optrex America
Cheryl Amos
Sharkys Beach Bar
Docuteam Inc.
Lumpkin County High School
Children's Restoration Network
Andi Frey
Tifanny Jones
Rivermore Park
Meridian Homes
Pharsalia Tech
Turnil Windows
Rooms To Go
Southern Company
The Scotts Company
Amberly Suites
Marshall Erdman And Associates
Sarah Harper
Nalley Lexus
Carol Palmer
Sungard Recovery
Gem Contractors
Earth America
The Orchards Group
96 Rock Radio Station
Alpharetta Country Club
La Face Records
Bonnie Rudd
Cherokee Republican Party
Kim Barrett
Horseshoe Bend Country Club
St. Ives Social Committee
Brud Gotts
Cafe Tu Tu Tango
Tree Trail Apartments
Lexington Glen Apartments
Ericson Corporation
Evergreen Conference Center
The Drywall Company
Cardlytics
Tech Data
AON Insurance
IBM Corporation
Bionco Hopkins Inc.
Tommy Hilfiger Corporation
Aerotron Air Power
Sandy Mason
Lake Lanier Sailing Club
Roswell High School
Dixie Aerospace
Panasonic
Somerset Houseboats
Cargo Uk
Old Atlanta Golf Club
Atlanta Rowing Club
Remax Realty
District Memorial Hospital
Sigma Phi-Emory
Chi Phi- Ga. Tech
High Meadows School
Tech Data
Laura Mcrae
Bionco Hopkins
Emory University
AMLI At Vinings
National Speakers Association
Collision Care
Target Superstore
GE Capitol
Chateau Elan
Blimpie Franchise Of Georgia
Nalley Acura
Service Merchandise
Atlanta Club Sport
Heather Scott
Pappasitos Cantina
Pacific Coast Services
Jim Tidwell World Ford
Libertarian Party
David Sewell
Caron Frazier
Tina Lane
Catherine Silver
Joanna Patterson
Hellena Moon
Melanie Boltax
Brett & Ginger Gluck
Debbie Ard
Meridian Renovations
Kris Soha
Debby Esposito
Jim Rutledge
Vistar Atlanta
Global Connections
700 Airlift Squadron
Remington Huggins
Mindy Adams
Cox Radio Atlanta
Sarah Bernard
Rehrig Pacific
Fitness Tri
Ann Major
Region IV Head Start
Ellen Mckee
ITT Technical Institute
Paula Denna
Brenau University
Berkmar High School
Sean Doughtry
Derrick Hale
Jackie Knotts
Linda Toombs
Life College
Kim Dowd
Rick Kaldrovics
Carla Jackson
Warren County Quarry
Priscilla Wilson
Michelle Alexander
Stacy Marcum
Plus Thousands More!
A Blast Bands And DJs® + Karaoke
Fun, Memorable & Successful Events Every Time!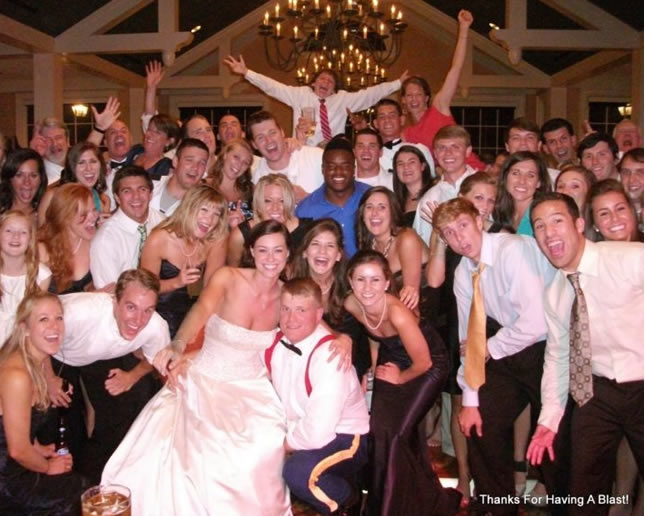 Here Are Some Live Celebrations!