B

last Band® Customer Review

s
The Special Customers We Serve Are Our Blast Salespeople:
Everyone Had A Blast At This Wedding Reception In Highlands North Carolina!
"Hi, Rick! I wanted to THANK YOU all for such an amazing set of music for our wedding. EVERYONE had such a fantastic time and still talk about how fun the wedding was and how GREAT the music/ band was. You guys worked with us and delivered! Thank you again!!! I also wanted you to know that our wedding was published and The Blast Band is listed in the article. The actual magazines are at the printer, but the website shows the feature. Check out the Spring issue and we are at the end of it. YAY!!"    -Marisa Cage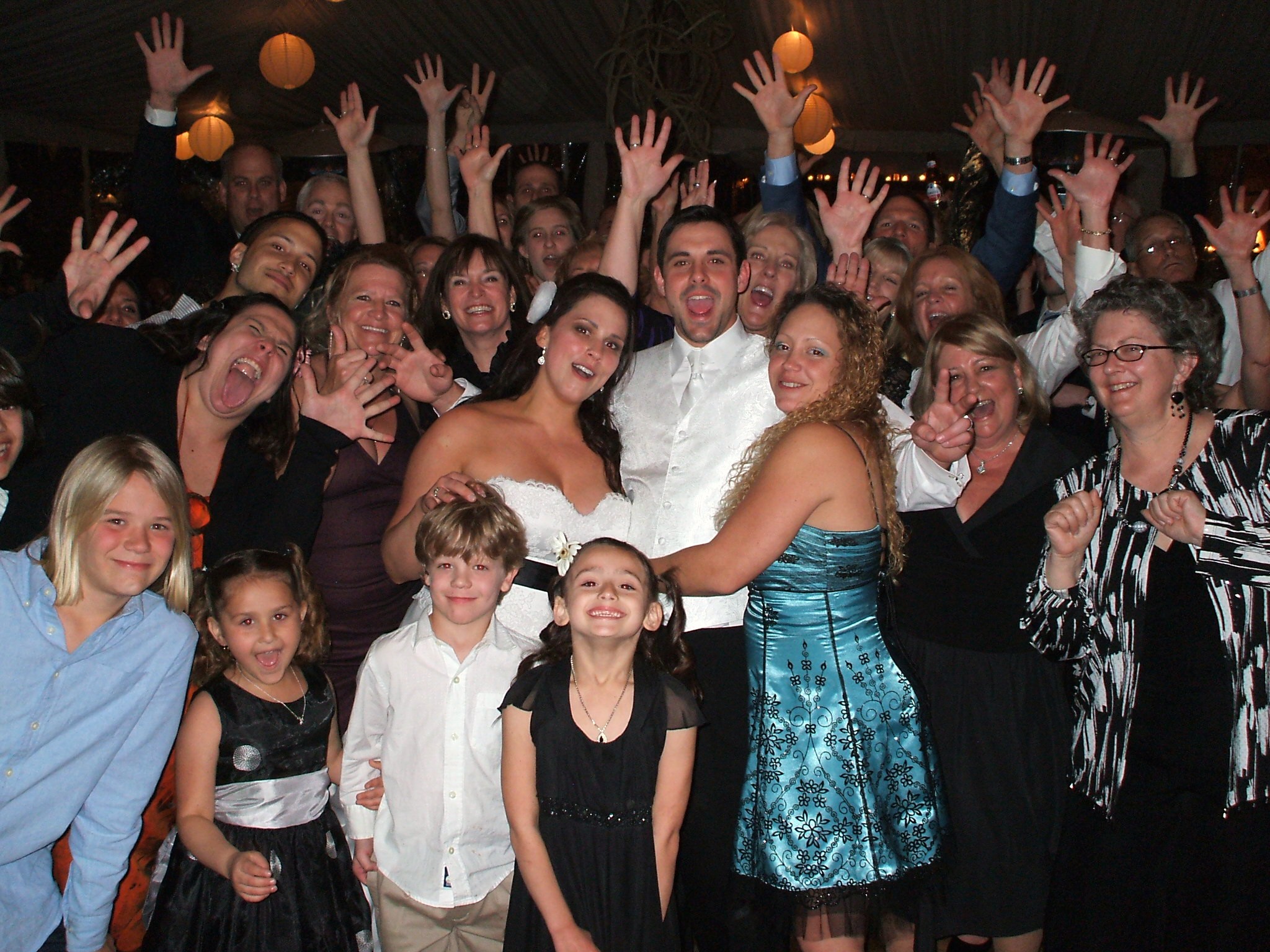 Congratulations To Sabrina And Chris!
"Rick, I just wanted to send over a quick note to say THANK YOU to the whole Blast Band for the most amazing wedding party we could possibly have imagined. The whole night was perfect, and I had no idea that you were in cahoots with my sister in law to plan a flash mob! It was more than we ever dreamed of and we will remember it forever. You guys rock and my friends are using words like "epic" to describe our night! Thank you so much for the wedding we always dreamed of!
Lots of love, Mr. and Mrs. Van Wart" Sabrina (Bride)

Congratulations Laura And Zeck!
"Fantastic night yall did an absolutely fantastic job…everyone I got to talk to commented on what a great band…100% pleased with everything… very professional. If ever anyone needs to talk to me about yall, feel free to pass along my #…thanks for making that night special."
-Curtis Spivey, Father Of The Bride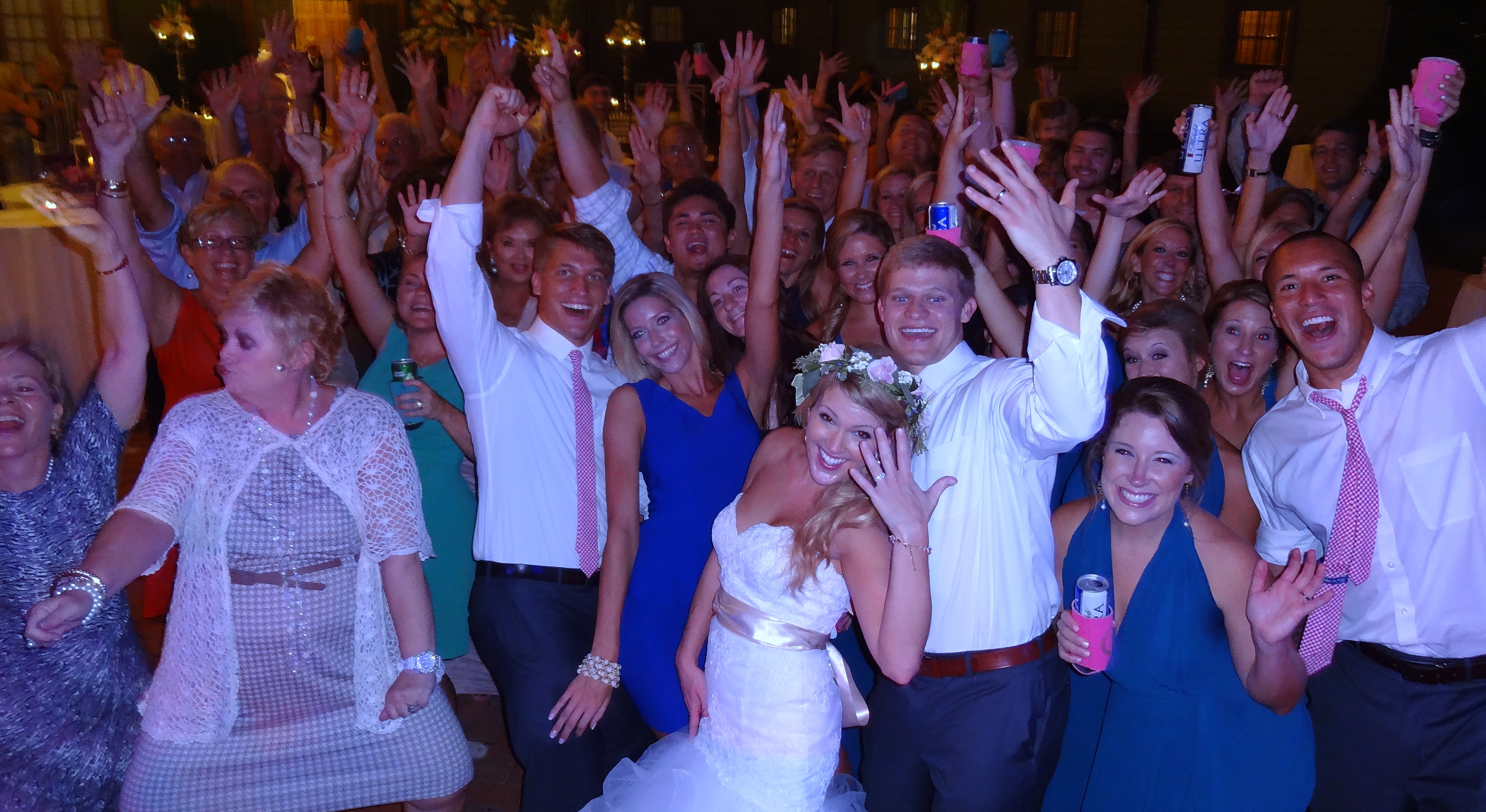 Congratulations Pensacola Florida!
"We hired the Blast Band for our annual Coronation celebration. This event takes place at the Pensacola Civic Center and hosts over 750 guests. Everyone raved about the Blast Band! They had the entire crowd on their feet into the early hours. Thank you, Rick and your band for an incredible evening!"
-Suzanne Turbyfill Coronation Chair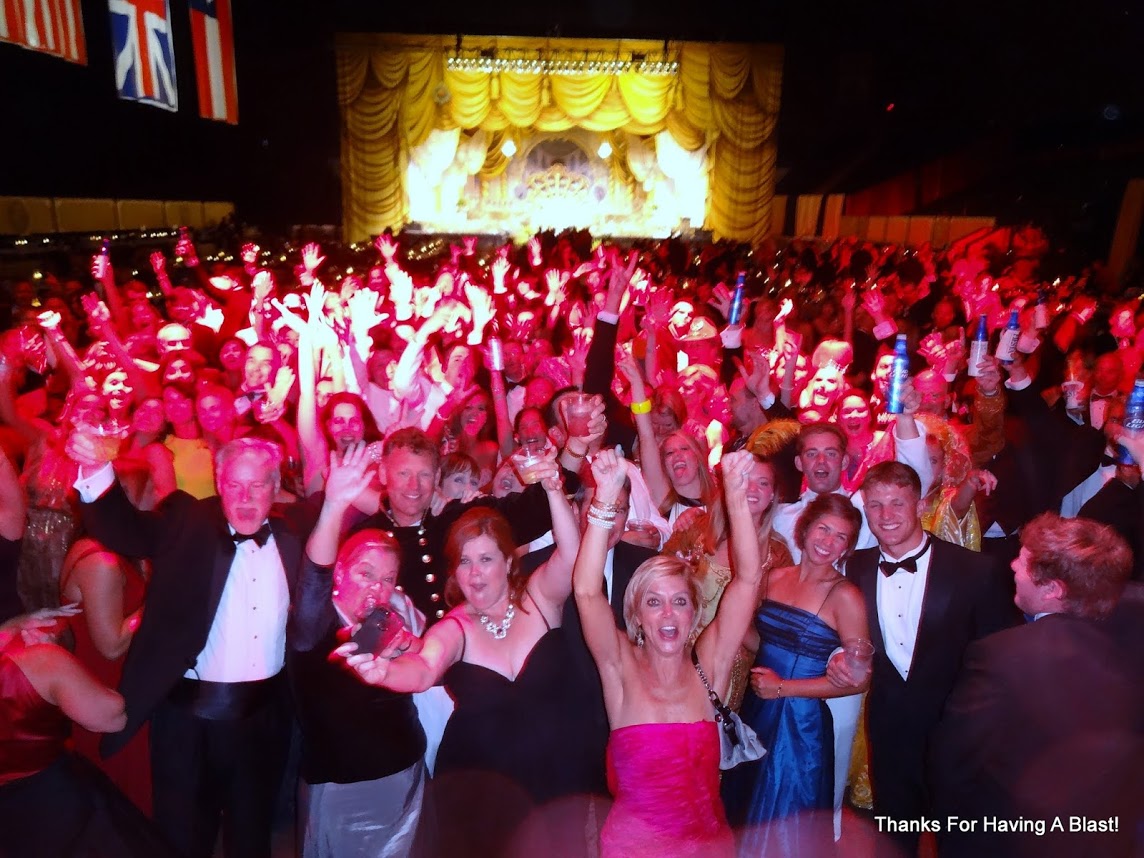 Congratulations to Melissa And Jake!
"The Blast Band delivered on all counts. My daughter and new son-in-law's wedding reception was the party they wanted. The music was mostly classic rock from the '70s and '80s with a little Motown to round out the set list. Rick and the band engaged our guests throughout the evening and had them rockin' out by the end of the night. Hire the Blast Band if you want a surefire hit when it comes to the entertainment portion of your event!" –Gary Cockerill, Father Of The Bride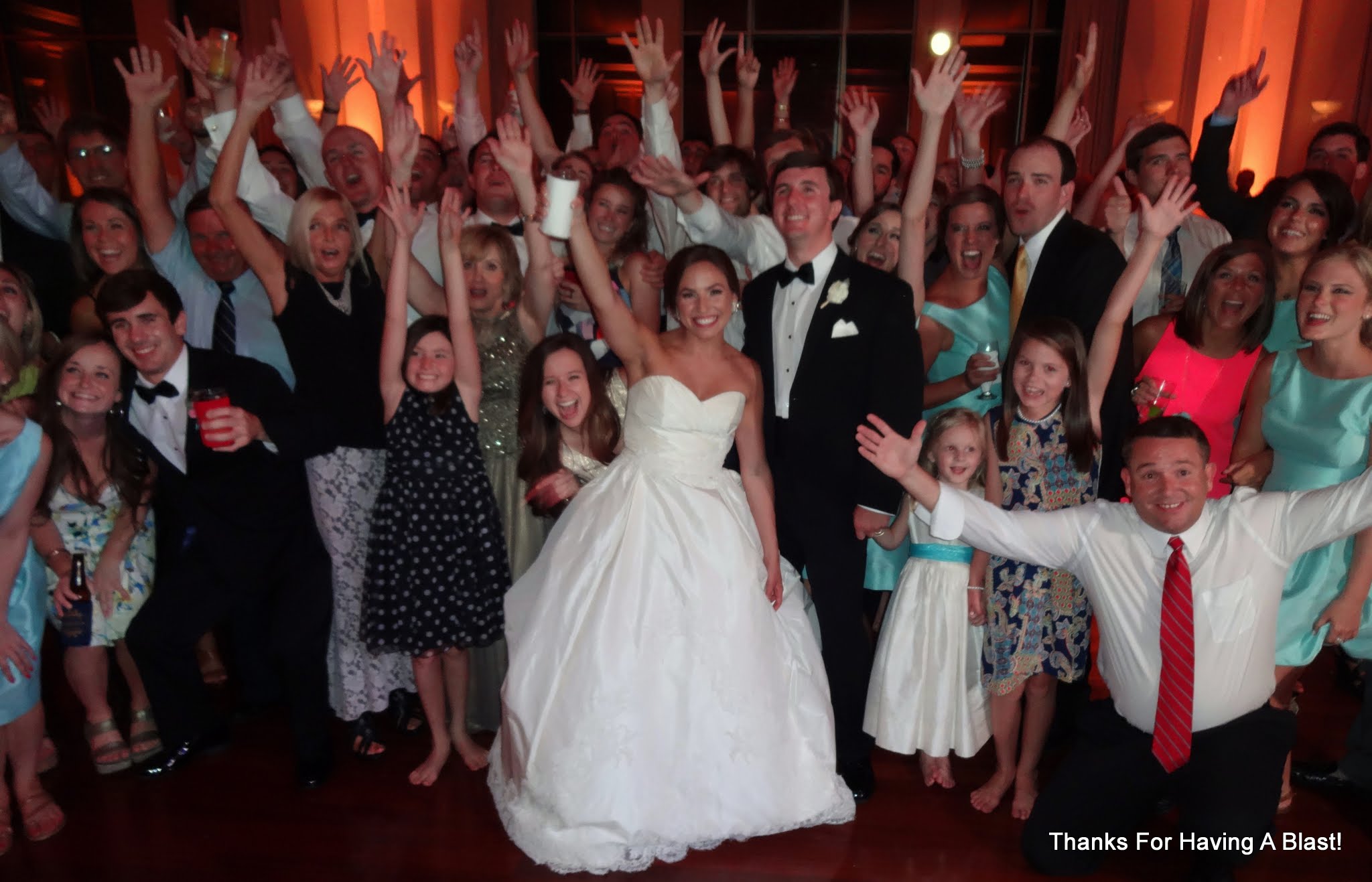 Congratulations Katie and Sohail!
"Hi, Rick. Just wanted to thank you and your band for the fantastic performance for my daughter's wedding at the Evergreen Marriott! We had so many compliments about the band. You took a few pictures at the end, and I would love to have some copies of these pictures, please!! Please let me know if this can be done. Once again, the band was a huge success, and if ever there is a need for a band at another event, you will be the one to go to!! Thank you again!"
-Linda Toombs, Mother Of The Bride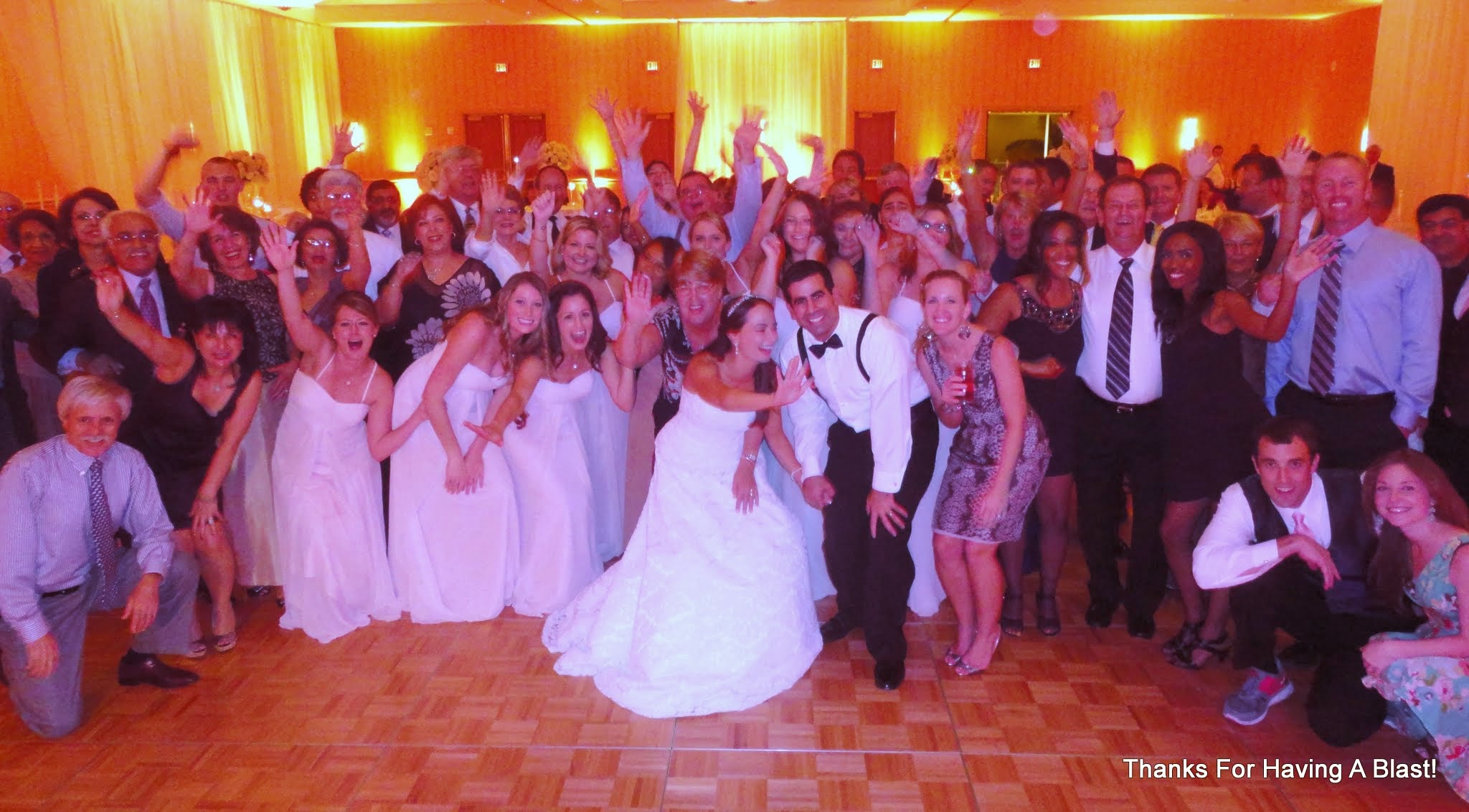 Congratulations To Andi And Andrew! We always let the customers sit in with us!
"Thank you so much for last night; we had the best time with you guys! We had at least a dozen guests come up and rave about how much fun the band was. It was awesome having everyone tear up the dance floor and celebrate with us all night! We will definitely recommend you to anyone planning a wedding. Thanks again!"  –Andi (Bride)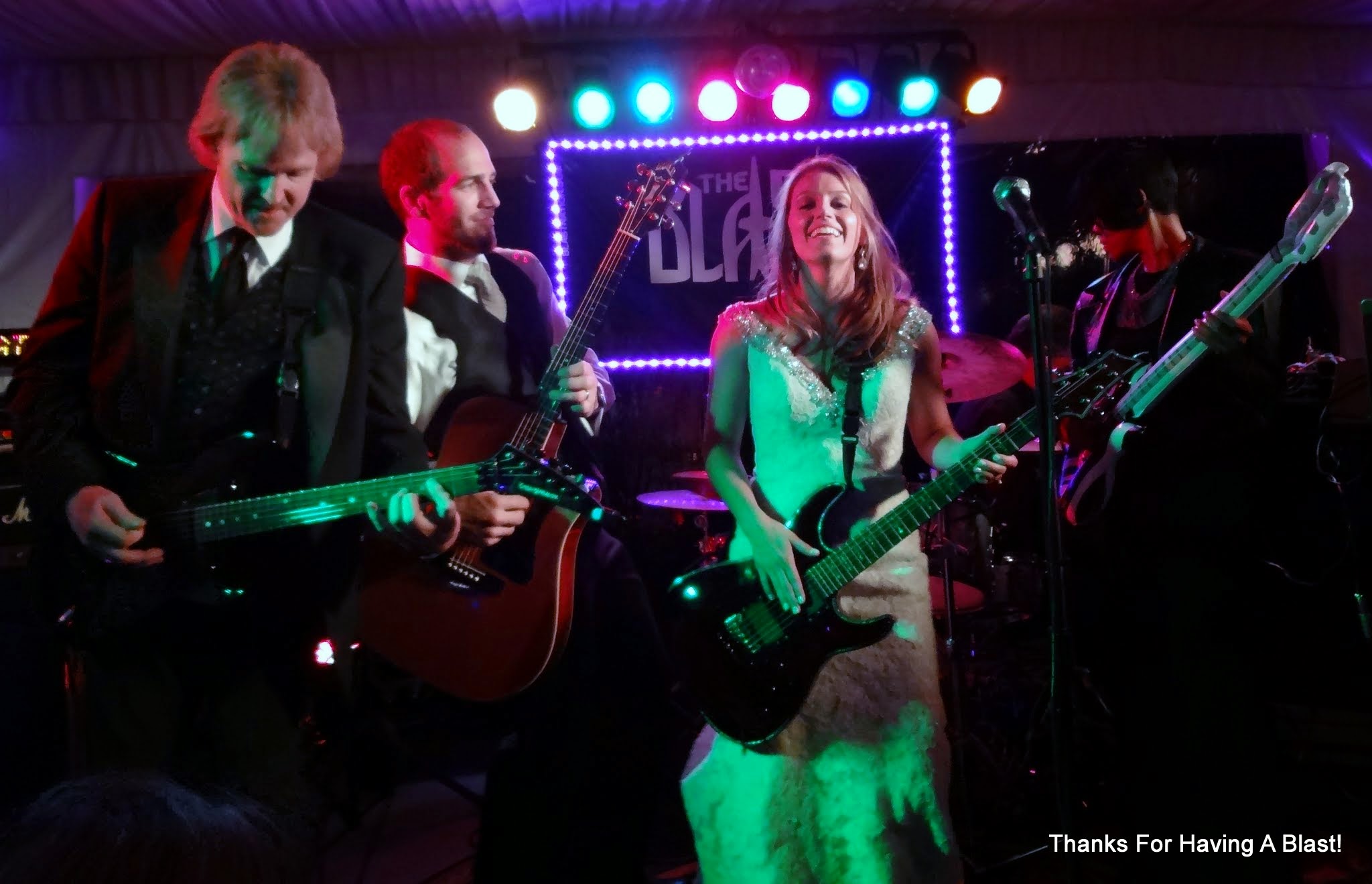 Congratulations To Stephanie And Tom!
"We had the most amazing night of our lives and the Blast Band was sure to thank for that. The 6 piece band (with Blastettes) was incredible! They kept everyone on their feet, rocking out all night! The last hour was like we were at a concert, it was so fantastic. Everyone from all age groups kept commenting the next day about how amazing the band was. Rick and team did a fantastic job by working through my requests for the ceremony, dinner and reception music, I could not be happier. Thank you so much to the Blast Band".
– Tom and Steph Martinez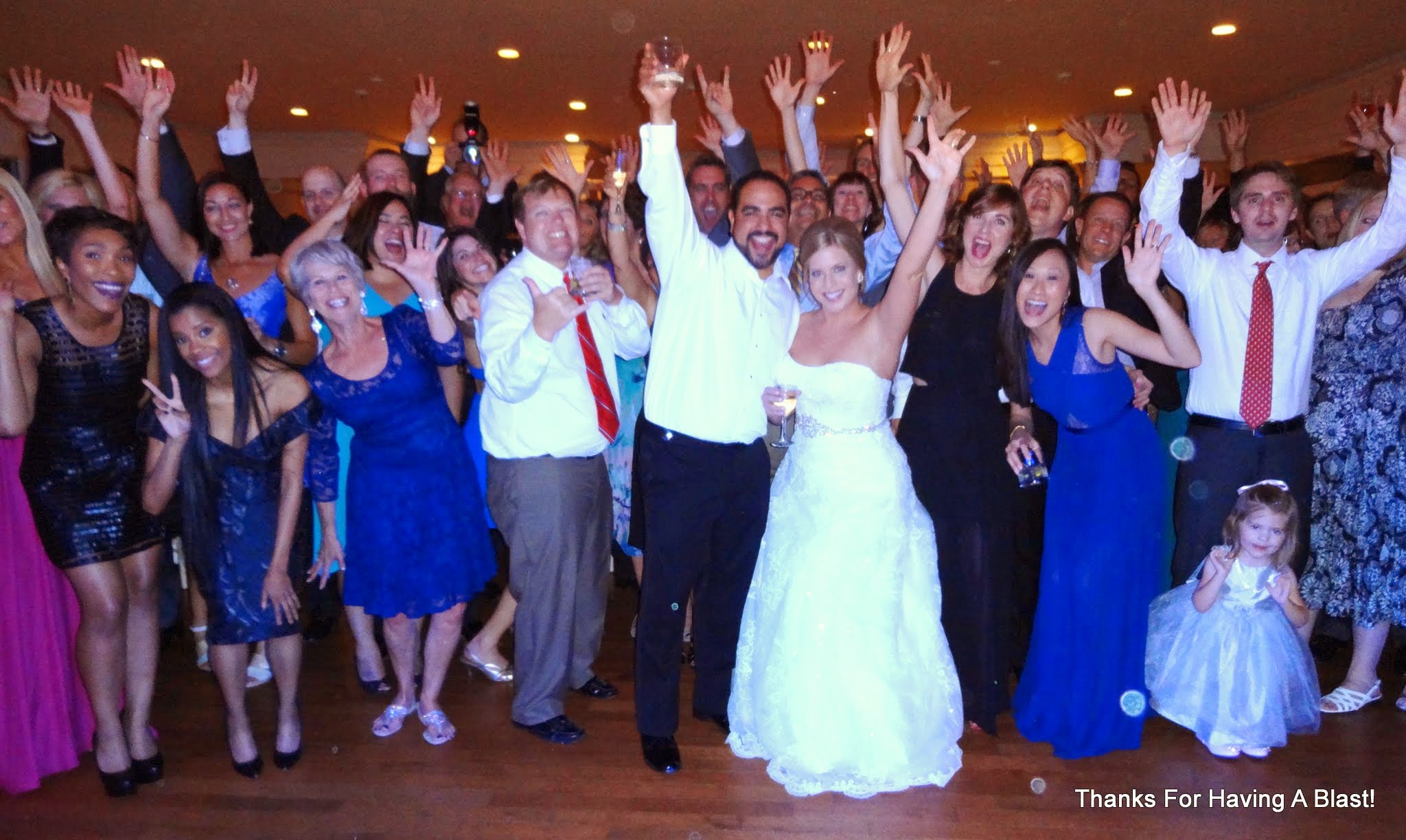 "Thank you so much for a wonderful evening!!!! Yes, indeed you provided great music and great fun for all of our guests. The guests are still thanking me for the wonderful evening and the band is always mentioned in their comments. The bride and groom were extremely pleased and that, alone, makes me happy. I, too, had a wonderful evening and thoroughly enjoyed myself. Maybe too much, my feet were absolutely killing me Sunday; they are still sore!!! I cannot wait to recommend your band to other friends who may have events requiring your services. Again, thank so very much for a great time Saturday night and for providing A Blast for my daughter's wedding!!!!!" -Debbie Cate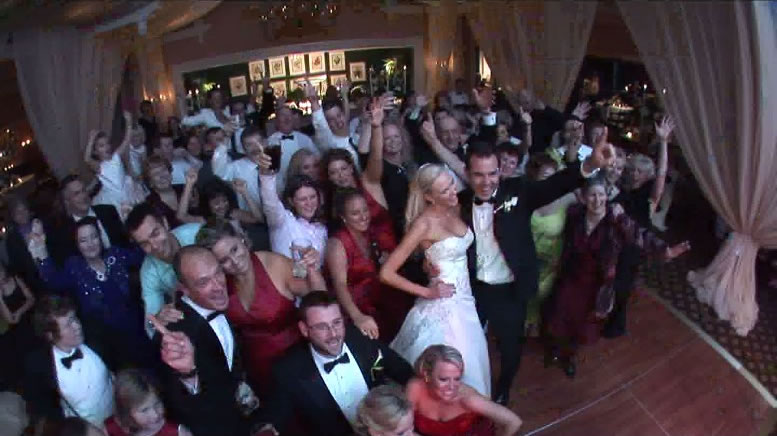 "Thank you for doing a great job at my daughter's wedding! We had so much fun!"
-Donald Gillis (Father of the Bride)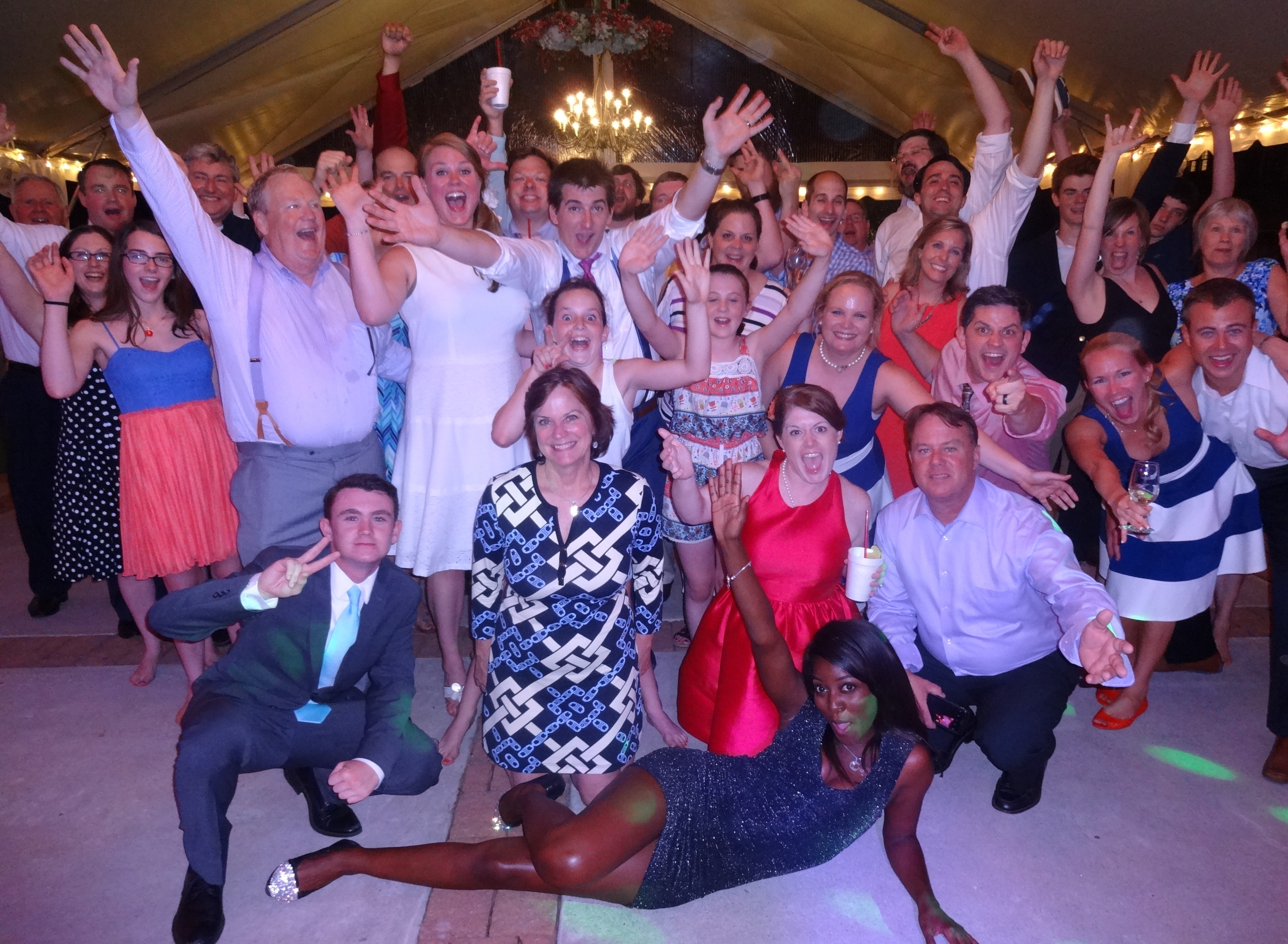 Here Are Some Live Celebrations! 
Blast Band Customer Review
St. Ives Country Club Wedding Reception For Lauren & Brendan
Thanks so much Rick! We loved you all. I will definitely be recommending you to anyone else I know getting married, or just need a great band for a fun night.
Thanks again, Lauren and Brendan
Blast Band Customer Review
Shorter Mansion Eufala, Alabama
"Rick,
We did our research when Jarred (Groom) & I picked the band. The word is, among all the Eufaula people that The Blast Band is the best group that has ever played these events here at Shorter Mansion. You will probably end up doing a repeat performance. Also, please post on your site any public events the band will be playing. I would love to see you play Panama City Beach again soon. Please do leave the slide show up on YouTube. Lindsay and Jarred are still on their honeymoon. When they get back they will check it out and forward the link to all their friends. Thank you for doing such a great job! All the band members are excellent musicians and work very hard. By the way, you nailed Europa."
-Randy Sherrill(Father Of the Bride)
Blast Band Customer Review
Fundraiser For The Children's Restoration Network
"The Blast Band has entertained our guests at events everywhere from The Ritz Carlton Hotel in Buckhead to a warehouse holiday party for several years. They keep things fun, they are talented, and seem to have a great feel for what the crowd needs! Very good band and always an honest price. I would trust them to entertain whether it's a DJ you need or a full band, we have used both. -Cliff Kinsey, CEO
Blast Band Customer Review
Birthday Party For Evia Held At The Capitol City Club
Hi Rick, You beat me to it. I was going to send you an email this morning. You guys did a fantastic job. Thanks for making my birthday party a smash. I had many guests tell me they thought the band was great! We will be sure to use you guys again at our next party.
-Evia & Andy
Blast Band Customer Review
"Your name says it all, we had a great time! All the music was appropriate, the volume level was perfect, sound quality was super, you're vocals were fantastic and you were the ultimate professionals."
-Terry & Crystal Doeringer Wedding Reception
Blast Band Customer Review
"The Blast Band Rocks! Extremely Pleased!
Great musicians, very professional, friendly and flexible.
Everyone went CRAZY when I performed with the band!
Thanks for making our reception extra special and giving my family so many things to remember.
Keep On Rock'n!" -Nicholas Vatzakus Wedding
Blast Band Customer Review
"Thanks for doing a great job at our Georgia tech pre-game parties"
-Dave Bowen 96 Rock Radio Station Atlanta
Blast Band Customer Review
"Thanks for a great job Saturday Night. I am still getting comments today from guests saying that the band was great!"
– Sandra Bowers Richard Bowers & Co. Holiday Party
Blast Band Customer Review
"I speak warmly and often to my friends & associates with regard to A Blast and your wonderful music. I'll never forget how you came to my rescue."
-Robert Carey Father of the Bride
Blast Band Customer Review
Rick,
Patrick and I were so pleased with your service! You did a great job and you were very professional! We even had several compliments from guests on what a great DJ you were. You never missed a beat! You also had professional equipment, which was noticed! Thanks for making the party just what we hoped it would be and working so well with us! You were wonderful and we would recommend you to anyone!
Also noteworthy is your website. It was so easy for me to give you my playlist and find the songs I wanted. You've got it done right!
Thanks for your A+ service and hope you had a little fun at our wedding!
– Valerie and Patrick
Blast Band Customer Review
"Thanks for performing at our wedding reception, it was awesome!"
-Brent and Lisa Taylor
Blast Band Customer Review
"Wonderful job at our 'Elite of Lexus' company party."
-Terri Phillips Nalley Lexus
Blast Band Customer Review
"Thanks to you, our wedding reception turned out perfect!"
-Patrick and Julie Soltus
Blast Band Customer Review
"Simply Unbelievable! You certainly exceeded our expectations."
-Gene Miller Bell South
Blast Band Customer Review
"Thanks for helping to kick off one of the greatest weekends of out lives!"
-Cathy Selig Selig Enterprises
Blast Band Customer Review
"The Blast was a breeze to work with and did a masterful job at playing a wide mix of music to satisfy and entertain all of the different age groups and tastes represented."
-Beth Hefferman Director of Events SouthStar Funding
Blast Band Customer Review
"Thanks for the great time you gave our guests and staff at the Lake Lanier PineIsle Resort" –The Blast Band was PineIsles House Band for three years!
-Sandy Lamm Director of Operations PineIsle Renaissance Resort Lake Lanier
Blast Band Customer Review
"Thank you and your band for the entertainment at my sons wedding reception. Besides the entertainment, thank you for the orchestrating of the dances and other formalities."
– David Sewell -Father of the Groom
Blast Band Customer Review
"I had to drag them off "kicking and screaming" and onto the buses at the end of the night. I think they would have danced all night if we'd let them!"
-Nancy C. Smythe Executive Director American Cleft Palate-Craniofacial Association
Blast Band Customer Review
Dear Rick and the Gang,
What can I say but WOW and a huge thank you from everyone at High Meadows School. You did a wonderful job I only wish you could have played ALL night. We've had so many compliments about the music and Betty was a wonder!!!
I'd like to also thank you personally for working around all of my last minute itinerary changes without skipping a beat and for keeping a smile on your face. The band added so much to the success of our fundraising event especially your working along with the auctioneer with all those sound effects. The Blast Band definitely Rocks!
We will look forward to working with you in the future and will pass on your name without hesitation.
Sincerely and Gratefully, Laura
Blast Band Customer Review
Hey Rick,
You all were so fantastic. From the prompt arrival and flexibility with setup location in the house to the sound level and just plain rockin' quality of your sound…you all were great. So many of my guests commented how awesome you all were…your number got passed about a few times! Thanks for the party…it was a BLAST!
-Gary & Kristen Gibbs
Blast Band Customer Review
" I cannot tell you how much fun we and everyone had! I thought the evening went perfectly and everyone had "a blast"! Thanks for making my day perfect and for the ease of communication and making sure everything went smoothly!"
– Emily Wilkes Garner (Bride) Highland Falls Country Club, N. C
Blast Band Customer Review
A Blast's Band Was A-M-A-Z-I-N-G !!
We hired A Blast's Band to play at a Luau in our neighborhood and everyone was absolutely "blown away" at just how wonderful they were! We could close our eyes and imagine we were at the original recording artists' concerts. We "LOVED" them and will use them again! 
-Marie & Donna Residents, Marina Bay
Plus Hundreds More!
Care To Contact Any Of These Folks? Simply Let Us Know!
The Award-Winning Blast Band®
Fun, Memorable And Successful Events Every Time! (678) 480-8743